Decadent Vapours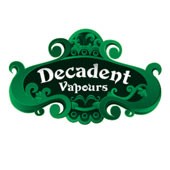 Developed over a seven year period, the Decadent eLiquid range features a variety of flavour blends as well as VG/PG ratios.
With a 50%VG and a 60%VG that's more suited to mouth-to-lung vaping, as well as a 75% High VG range for the Sub Ohmers, there's plenty to choose from in the Decadent range.
Initially created to celebrate six years they've been mixing eLiquids, Decadent's Djinni range was created to showcase their range. Condensing the range down to just ten flavours, the Djinni range has proved a popular series for Decadent.
Available in a 50%VG blend.
Aiming to encapsulate the traditional flavour profiles of the seasons, Decadent Vapours Seasonal range is available all year round to enjoy. There's a variety of blends to choose from, such as a Praline Wafer, a Berry Vanilla, a Raspberry Cream, and Apples and Pears.
Available in a 60%VG blend.
The High VG range from Decadent Vapors was created to allow those Sub Ohm vapers and Cloud Chasers to experience the Decadent range of flavours.
Available in a 75%VG blend.