Dr. Fog's Famous Ice Cream E-Liquid
Who likes Ice Cream? Everybody!
Dr Fog's Famous Ice Cream is manfactured in Canada, and their range features an array of delicious Iced Cream-themed vapes.
With classic Caramel Vanilla Bean, along with Deep Fried Ripple; there's some accurate Ice Cream flavours that you'll recognise, along with some interesting variations on the old favourites.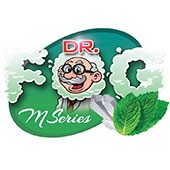 Dr Fog's M Series is a collection of fruit and sweet flavoured eliquids infused with a cooling menthol overtone.
Made in Canada, the range includes Grape, Watermelon Sherbert, Spearmint Bubblegum and Strawberry Grapefruit.