French Dude eLiquid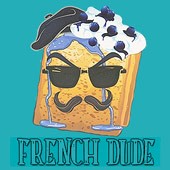 French Dude is another delicious vaping treat from the guys and girls at Vape Breakfast Classics.
Complimenting their Pancake Man exceptionally well, there's now two great breakfast-themed vape treats, both on differing sides of the breakfast table, but equally as delicious as each other!
Here's to more Vape Breakfast Classics!