Illusions Vapor E-Liquid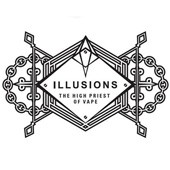 Illusions Vapor are a Canadian-based e-liquid company, producing the finest quality and mouth-watering flavours they can.
Manufactured in-house, and using locally sourced ingredients, Illusions ensure quality control is maintained at the best standards. They also took home the Best Fruit award at the Vaper Expo 2016 for their Taste of the Gods eliquid.
£15.99
Yoghurt, Strawberries
£15.99
Blueberry Waffle, Maple Syrup
£15.99
Blackcurrant, Pineapple, Coconut
OUT OF STOCK
Chapter Two from Illusions Vapor is the second stage of their vape journey, with three additional eLiquid flavours with some great vape notes to enjoy. Flavour notes, not musical ones.
Pineapple, Cake, Toffee
SAVE UP TO 25%
£15.99
Watermelon, Blueberry, Pear
£15.99
Nectarine, Sugar Cane