Pure Evil eLiquid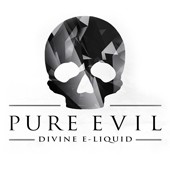 The Pure Evil E-Liquid are a range of premium eLiquids created and manufactured in the UK. Their maximum VG collection is specially designed for, as they say "summoning Un-Holy Clouds."
Concocted in the UK using only the finest of ingredients, Pure Evil Divine E-Liquid is said to warm the bones and tickle the soul.
7 Deadly Sins is a sub-range of eLiquids, with each flavour blend based around the infamous list of no-no's.