The Captain's Reserve E-liquid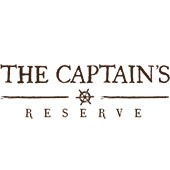 The Captains Reserve is a UK based e-liquid company. They create tantalising liquids to maximise the vaping experience. They take pride in their range and use only the best ingredients available. All of their e-liquids are manufactured in the United Kingdom. Have one of their delicious flavours now and make The Captains Reserve your all day vape!
With a background in gastronomy the juice makers at The Captain's Reserve create some of the most unique and mouth watering e-liquid available in the industry. Customer service, speed and quality are instrumental to their success. They strive to make The Captains Reserve a globally recognised brand. They run a tight ship over there at the port, and invite everybody they meet along the way to climb aboard.
The Max VG e-liquid range from The Captain's Reserve is a High VG reimagining of their existing line, allowing for very smooth sailing and plenty of overhead clouds.
Custard, Caramel & Banana
£4.99
Peanut Butter, Banana Cream & Chocolate
£4.99
Apple Pie, Maple Syrup