VapourCore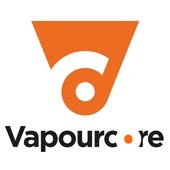 VapourCore eLiquids manufacture their eJuice range right here in the UK, with both a 50/50 range for mouth-to-lung, and an 80%VG mix for those looking to Sub Ohm.
A wide variety of flavours popular their range, and its worth having a vape on a few to get an idea of their range of flavour notes.
VapourCore's Flux range features a 80%VG blend, and is designed for use with Sub Ohm devices. While the Core range is intended for newer vapers and those using mouth-to-lung style kits, the Flux range compliments the vaper looking for denser clouds.