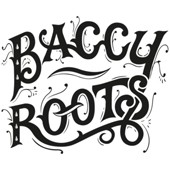 The Baccy Roots High VG range is brought to you by Doozy Vape Co. specialising in tobacco fused flavours with rich tastes. Featuring an emphasis on sub ohm vaping, flavours in this range include chocolate, spirits and dessert blends.
These ejuices have a 70% VG consistency, suited towards large cloud production without diminishing flavour. We recommend for best results, you use these eliquids in a sub ohm tank or device.
Available in 10ml bottles, with nicotine strength of 0mg, 6mg, 12mg and 18mg; lower strengths delivering a softer throat hit as opposed to a more noticeable feel for higher strengths.
If you're a fan of tobacco blends combined with bold flavours, then why not try Baccy Roots High VG.