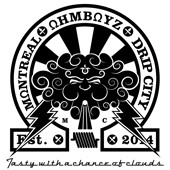 Ohm Boyz is a range of eliquids featuring distinct dessert and fruit blends with a unique twist. With an emphasis on bespoke, authentic flavour variants, OhmBoyz love of eye-catching artwork offers a visual aesthetic to match their high-quality eliquids. The collection includes nut, dessert and tropical fruit based blends.
Packaged in 50ml shortfill bottles with space for a nicotine shot of your choice, for example, adding an 18mg 10ml nic shot will create 60ml of 3mg eliquid. Featuring a 70% VG blend or above, these are ideal for cloud production without compromising flavour when used with a sub ohm device or kit.
If you're a fan of bold, complex flavours that are both unique yet balanced, then this is the range for you.