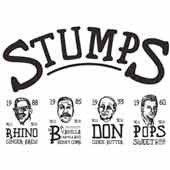 Stumps eliquids by Charlie's Chalk Dust are a range of high VG shortfills that are full of character, with each eliquid based on a persona of Charlie's own creation. Rhino, Don and the rest feature dessert, fruit and soda flavours for a complex, layered vape every time.
The collection features a 70% VG blend that is ideal for sub ohm vaping, we recommend that for best results you use Stumps ejuices in a sub ohm tank or kit. This particular blend strikes a balance between flavour and cloud production.
Available as 0mg 50ml shortfills, each bottle has room to add the 10ml nicotine shot of your choice. For example, adding a 10ml 18mg nic shot to a 50ml shortfill will create 60ml of 3mg eliquid.