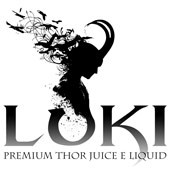 Brought to you by the makers of Thor Juice, Loki is a hand crafted range of Greek-God inspired eliquids. Combining classic flavours with a few heavenly twists, there's a wide range of fruity, pastry and spiced blends to choose from.
Each blend features a high, 70% VG ratio, which works best in sub ohm tanks and kits to create intense clouds and flavour alike.
All flavours come in a 10ml TPD compliant bottle, in either single or 3 x 10ml multipacks with varying nicotine strengths to choose from, so you can find an eliquid with a stronger or weaker hit. In addition, Loki eliquids are also available in a 0mg, 50ml shortfill bottle, with room to add a 10ml nic shot of your choice.