The Wismec Reuleaux Tinker vape kit is an advanced sub ohm vape kit, that's designed for advanced vapers, powered by three 18650 vape batteries (sold separately) it is capable of a 300W maximum output - one of the highest on the market today. This kit comes complete with the 2ml Column sub ohm tank that uses low resistance mesh coils and has adjustable airflow.
Designed by JayBo, this kit while large still fits well in the hand with a reassuring weight. A 0.96 full-colour screen clearly displays battery life, atomiser resistance and output information. The menu system is operated by the two buttons that sit below the screen.
A range of output modes allows you to customise the Tinker's performance to suit your style. Variable Wattage mode is perhaps the most popular and allows you to directly control the power output between 1-300W this means that while the Tinker works well with the Column tank it can also be used with a range of vape tanks and rebuildable atomisers.
In Temperature Control mode you set a wattage output as well as a maximum temperature your coils can reach before the device stops firing. This mode can only be used with certain coil types, however, if used correctly it can stop your coils from getting too hot and delivering a dry hit. It also lets you programme either a short powerful inhale or a long, smooth inhale.
The Wismec Column 2ml tank has been designed for sub ohm vaping. It has a sliding top fill mechanism that sits securely in place, when opened it reveals a large juice port and fits a range of bottle sizes, with the seal reducing leaking
The specially designed slotted airflow gives you greater control over your inhale, there are six airflow slots on each side of the tank, allowing you to pick between a wide inhale for producing large clouds or a more restricted one.
The Wismec WL01 coils that the Column uses each feature a 0.15 Ohm mesh coil build. Mesh has a wider surface area than conventional wound coils, this allows for a faster ramp up for bigger clouds; while allowing you to heat more eliquid for a boost in flavour production.
If you're looking for a kit that combines a bold aesthetic with a high wattage output for sub ohm vaping, then you should try the Wismec Reuleaux Tinker Kit.
Contains:
1 x Wismec Reuleaux Tinker 300W Mod
1 x Wismec 2ml Column Tank
2 x Wismec WL01 0.15 Ohm Mesh Coils (1 x preinstalled)
1 x User Manual
1 x USB Charging Cable
1 x Spares Bag
Tinker Mod Features:
Requires three 18650 batteries
300W max output
Colour screen
Variable Wattage Mode
Temperature Control Mode
Time clock
Column Tank Features:
2ml capacity
Top filling mechanism
Adjustable dual airflow
Uses mesh coils
Important information about sub ohm vaping:
This device is intended for sub ohm vaping. Sub ohm vape kits require a greater amount of knowledge and experience to use safely. They use specially designed coils that register below 1.0 Ohm resistance, for use at higher wattages. These kits will also feature advanced modes that require a knowledge of vaping to be used correctly.
We recommend you do not use an e-liquid that has higher than a 6mg nicotine strength, this will be too harsh on the throat. Sub ohm vaping produces more vapour and because of this, an increased throat hit. High VG e-liquids will allow you to experience greater vapour production when used with this kit.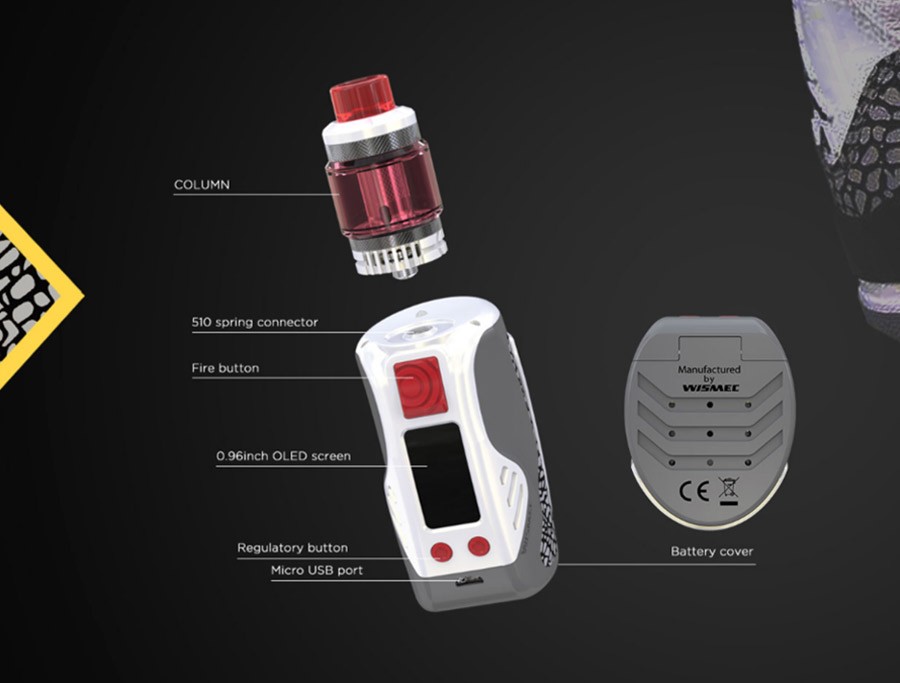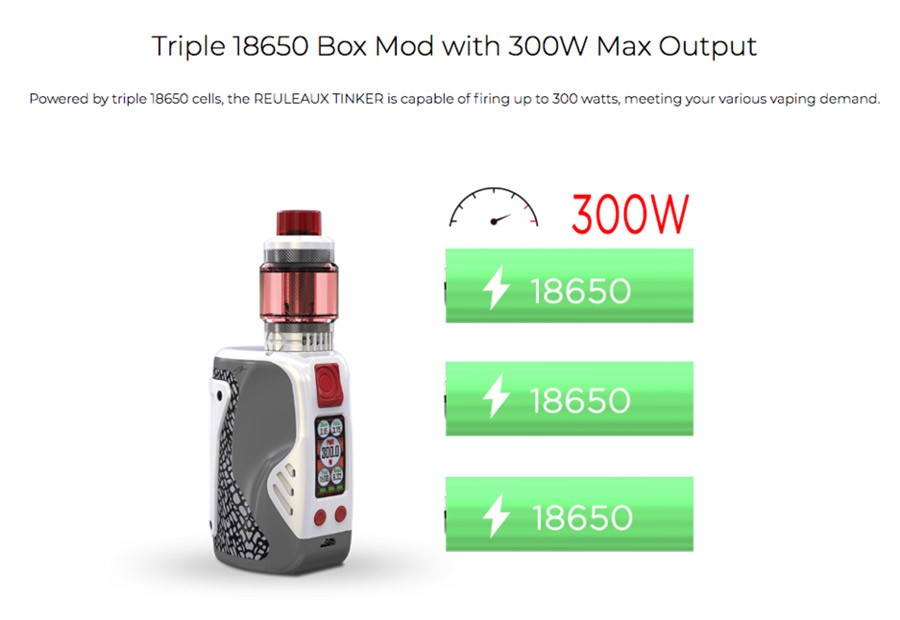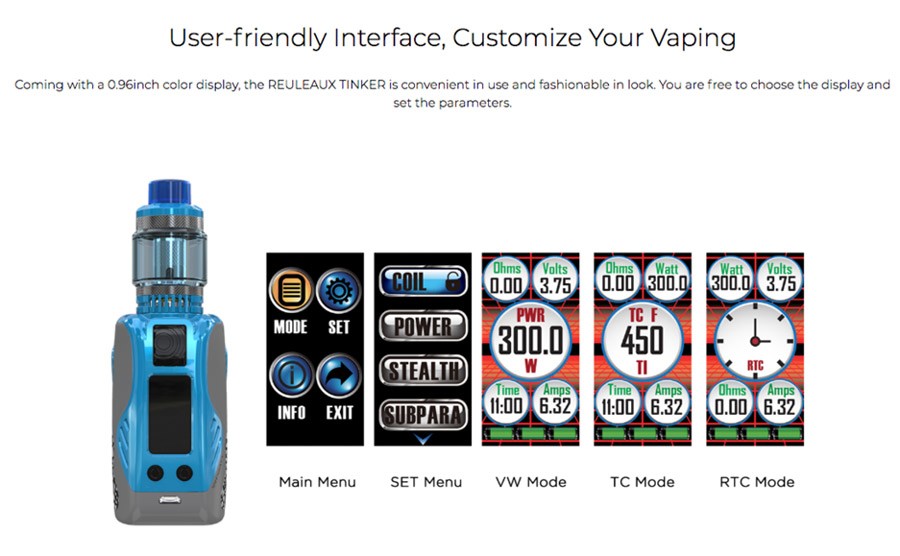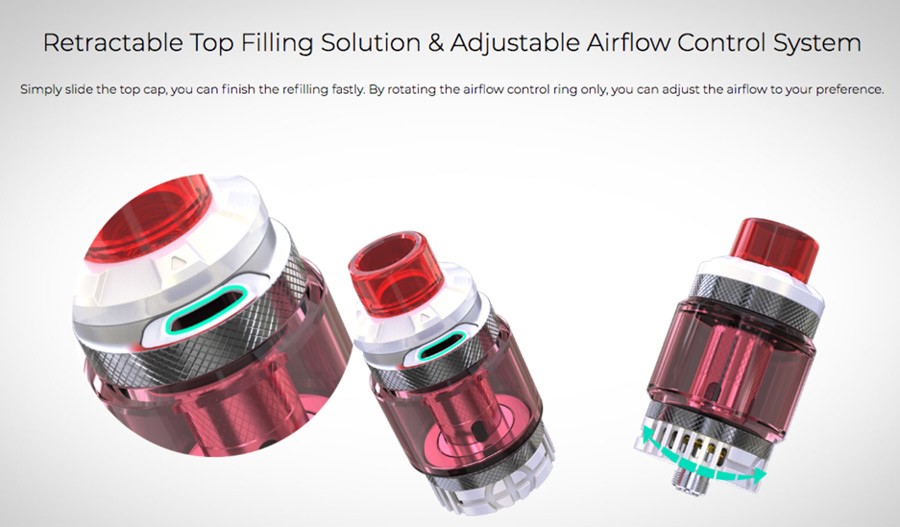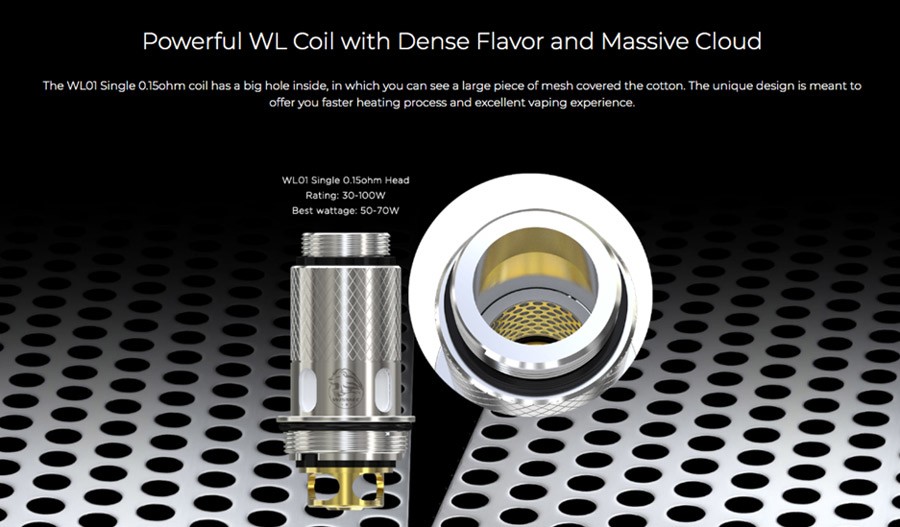 £14.99