Element E-Liquid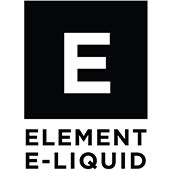 Element E-Liquid's Premium Dripper series are a range of juices specifically designed for use with drippers and mechanical mods. They are formulated with a higher concentration of VG and with less nicotine to produce the purest and densest clouds possible.
Element are a true blue American brand whose specialist dripper juices are made with USP grade ingredients which are only sourced from the most trusted names in the US pharmaceutical industry. Their nicotine is also extracted from natural American tobacco leaves rather than synthesised in a lab, plus every single juice in the Element range is guaranteed Diacetyl-free.
As well as being designed specially for drippers, these Element e-liquids are all pre-steeped before being made available for purchase by the public, so there is no waiting for the flavours to develop as they are all ready to vape and drip as soon as you get them. By vaping these Element e-juices, you will experience unparalleled purity along with the highest possible e-liquid manufacturing standards from the United States of America.
The Element Emulsions e-liquid range by Element was, in many ways, created by the people that love Element's Dripper range so very much.
After speaking with their many fans, and discovering that people love mixing their favourite Element flavours; the lovely people over at Element decided they would get in on the game and the Emulsions range is the result.
A mix of some of the best flavours in the dripper range, mixed with some of the other best flavours in the dripper range, all conveniently packaged away in that familiar blue glass bottle.
Element's Tobacconist eLiquid range features their sterling mixing and flavouring efforts applied to the classic tobacco flavour. This is the 50%VG version, with strengths of 0, 6, 12, and 18mg.
For 3mg as well as a High VG mix, please see the alternative Element Tobacconist range.
£14.99
Tobacco, Hazelnuts
£9.99
Tobacco, Nuts, Caramel, Vanilla
Coming Soon!
£14.99
Blackcurrant, Tobacco
OUT OF STOCK
This is the high 80% VG version of Element's Tobacconist range that's only available in 3mg Nicotine. For lower VG mixes with other strengths please see the alternative 50%VG range.