Five Pawns eLiquid
With sophisticated style and wholly complex flavours, Five Pawns e-liquids are carefully handcrafted in California, and are some of most premium flavour blends we've stocked here at Vape Club.
A lot of careful thought and consideration have gone into their creations, and the end product really demonstrates their dedication.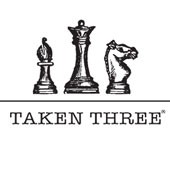 You spoke and Five Pawns listened. Taken Three is Five Pawns' latest range from their mixology masters, this time their focus is towards the sub-ohm market, with this sub-range of refills.
Taken Three are higher in VG, lower in cost, and still maintain that signature Five Pawns attention to complex flavour detail.
£15.99
Banana, Cream, Pie
£15.99
Sugar Cookie, Lemon Zest
£15.99
Pineapple Cake