WizMix E-Liquid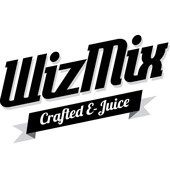 We've had a lot of requests to bring on board another quality and cost effective UK made e-liquid, and so it is with great pleasure that we bring to you Wizmix – a British e-liquid manufacturer who only use ingredients sourced in Britain to create their juices in their British clean room, resulting in delicious juices perfectly suited to the British palette! (Did we mention these are British e-liquids?)
They're a dedicated bunch who spent two years developing each of their e-liquid flavours with the simple intention of creating enjoyable juices with a unique taste. The makers of Wizmix e-juice ensure they use only the highest quality ingredients which adhere to British regulatory standards, while they also aim to keep their extensive e-liquid range at affordable prices. With an even base mix of 50% PG to 50% VG, there's a great balance between throat hit, flavour, and vapour production.
With a high VG twist, UK's WizMix have redesigned some of the most popular flavours of their eLiquid range into sub-ohm friendly, 80%VG versions.
With a straight Tobacco, fruity Strawberries, Peaches, and their renowned Menthol Asylum blast, the WizMaxx range covers a variety of flavour bases with their latest range.