The Ultimate Guide To Shortfill E-Liquid
WHAT IS SHORTFILL E-LIQUID?
When the TPD (Tobacco Products Directive) came into effect on May 2017, among other things such as capping tank sizes, it regulated the sale of e-liquids containing nicotine in bottles larger than 10ml in size.
This is when and why the shortfill e-liquid was created. A shortfill is defined as an underfilled bottle of e-liquid that a nicotine booster shot (10ml bottle of 18mg nicotine e-liquid) can be added to. For example, a 60ml shortfill e-liquid would contain 50ml of 0mg e-liquid, to which you could add a 10ml, 18mg nicotine shot. When mixed you would have 60ml of 3mg e-liquid.
HOW DOES IT WORK?
It's simply a case of adding your chosen nicotine shot into the shortfill bottle and shaking vigorously (remember to put the cap back on first). This will make sure that the nicotine has mixed and steeped properly with the e-liquid. Mixing is easy once you know how, check out the handy chart below to help you get the correct ratio of nicotine and e-liquid for your short fill.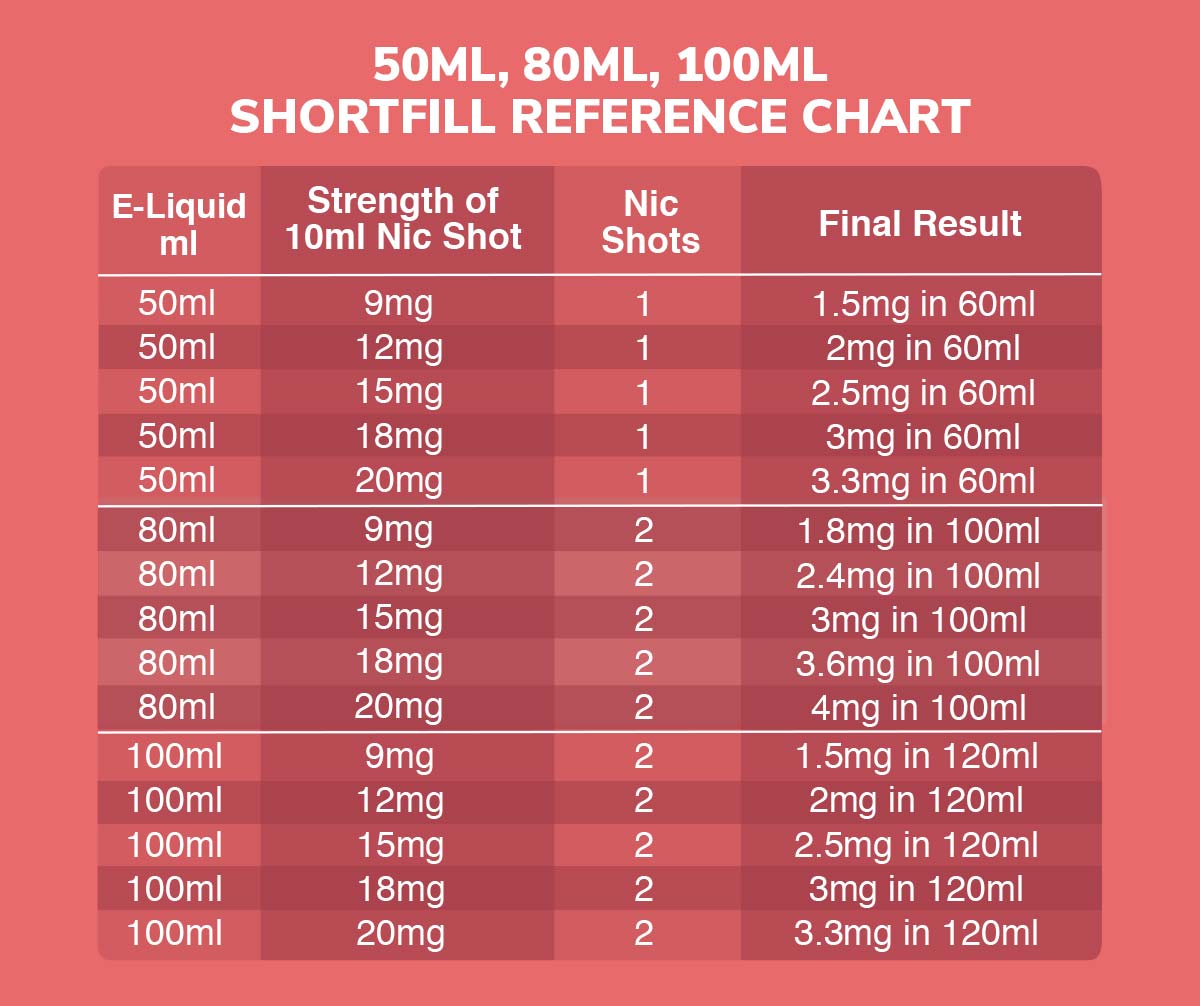 ARE SHORTFILLS GOOD OR BAD?
On the face of it, the shortfill is an ingenious idea which has effectively solved many of the complications of which the TPD regulations had enforced. In a lot of cases, one 50ml shortfill bottle is cheaper than six 10ml bottles, therefore you're saving on pennies as well as reducing plastic consumption which is a big win-win for both your piggy bank and the environment.
In terms of health and safety, shortfills are safer than pure DIY mixing - where it is common for larger quantities of raw nicotine to be used. It is always essential, even with shortfills, to take extra care when handling nicotine and e-liquid, by wearing protective equipment such as gloves and goggles.
For those of you who vape 0mg of nicotine and want to use shortfills, one word of warning; shortfill e-liquids often include extra flavour concentrate to accommodate for when the nicotine has been added (a bit like fruit squash before you add water). It has been reported that 0mg shortfills may be too intense in flavour and may shorten the life of your coils. As a result, we advise adding 10ml of flavourless e-liquid (or straight PG/straight VG or a combination of the two) to combat this and allow the shortfill to not taste too off-putting or reduce the lifespan of your coils.
QUALITY GOES A LONG WAY
We always recommend that you buy high-quality nicotine shots, as poor quality nicotine boosters can destroy the flavour of your e-liquid. We also advise that you match the VG/PG ratios of your e-liquids and nicotine shots, as sometimes this difference in ratio can compromise taste.
Overall, shortfill e-liquid is popular and beneficial for good reason. It's far easier to carry one large bottle around if you're vaping consistently throughout the day, more so if you're dripping or using a high wattage sub ohm set-up. They also allow vapers to accurately measure for themselves how much nicotine is going into their e-liquid and most importantly, they have convinced companies to bring out new ranges of juices, which means more flavours and more choice.
Here at Vape Club, we offer a large range of Shortfill E-Liquids and Nicotine Shots, for every flavour palate, in a variety of VG and PG ratios to suit your preference.
If you have any other queries surrounding vaping vs smoking or vaping in general, please do not hesitate to contact us.
How To Guides & Useful Information