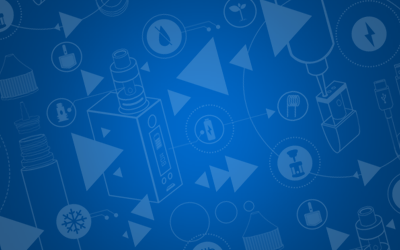 What Are The Best Doozy Nic Salts?
When it comes to nic salts, some brands really know what they're doing; Doozy Vape. is one of them! With other 40 different salt nicotine juices available, spanning across numerous sub-brands, like Seriously Salty, Seriously Bar Salts and Mix Salts, Doozy has a lot to offer. But where exactly should you start? Not to worry, we have you covered. Our Top Ten Doozy Nic Salts Guide contains our favourite flavours from one of the biggest names in the game.
Blue Razz Ice by Seriously Salty
Sometimes it seems you can't move for blue raspberry vapes, but this blend cuts through the rest with its fresh, frosty taste. We're talking about Blue Razz Ice of course! From your first vape, you'll encounter the sweet, tart flavour of ripe fruit combined with candy. The menthol chill that rolls in after it delivers a crisp endnote.
Also Find This Doozy Flavour In:
Frozen Berries by Doozy Salts
A duo of fruit flavours capped off with an icy exhale makes Frozen Berries the ideal option if you're looking for a chilled vape. A unique fusion of strawberry and raspberry creates a flavour that plays between sweet and tart, with a juicy note that lingers through to exhale. The added menthol softens the bold taste of fruit.
Also Find This Doozy Flavour In:
Vanilla Custard by Doozy Salts
We knew it wouldn't take long to start talking about Doozy's dessert blends. Sweet, rich, and more than a little indulgent, they're the ideal choice if you're looking for something more layered. Vanilla Custard keeps things classic with its light and creamy notes and the flavours don't overpower each other, instead, you'll experience a balanced vape.
Berry Watermelon by Seriously Salty
Keeping up the trend of fresh-tasting fruit vapes, Berry Watermelon adds a tropical twist to traditional summer strawberry. The fruity fusion makes way for a layer of menthol that highlights the juiciness of the two. The ideal option for warmer weather, this blend offers an exotic alternative to classic vapes.
Also Find This Doozy Flavour In:
Caramel Tobacco by Doozy Salts
The honey notes of Virginia-style tobacco meet up with the silky sweet flavour of caramel in this next blend. Caramel Tobacco sees Doozy take a break from fruity menthol blends and, instead, they've created a rich blend that takes the nuttiness of a classic tobacco vape and turns it on its head with a sugary taste that lightens the dark notes.
Rio by Doozy Tropix
We can't demand that you experience any of these e-liquids poolside, but if any blend deserves the holiday treatment, it's definitely Rio! This isn't your standard tropical fruit blend either, featuring the sweet and tangy flavour of mangosteen and guava, there are extra citrus notes that create a juice with a real tang and a layer of ice for a crisp finish.
Also Find This Doozy Flavour In:
Tropical Slush by Doozy Salts
Conjuring up the taste of slushie drinks, you won't have to worry about a frozen headache with this next blend! Tropical Slush takes the ever-popular flavour of blue raspberry and sharpens it up with an extra helping of pineapple, delivering a vape that's equal parts sweet and tangy. Ice tops things off for an authentic frosty exhale.
Cool Blackcurrant Lemonade by Seriously Salty
Adding a long pour of summer to your vape has never been easier thanks to Cool Blackcurrant Lemonade. From your first vape, you'll experience the citrus-laden notes of homestyle lemonade combined with the dark and sweet flavour of ripe blackcurrant. The added layer of menthol adds to the fresh taste.
Apple & Grape Blast by Doozy Salts
Next up is a unique fruit fusion that's ideal for vapers looking to experience a juicy taste. Apple and Grape Blast fuses the crisp notes of green apple with the dark, sweet flavour of purple grape. The added ice intensifies the blend's top notes and adds a sweetness all of its own.
Fiji by Doozy Tropix
More than just your average fruit blend, Fiji adds a tropical twist to the traditional taste of apple and watermelon. The extra cucamelon flavour lends the blend an extra sweet note wrapped up in a layer of sour. The three fruits work together to deliver a balanced vape with a juicy finish.
Also Find This Doozy Flavour In:
Summing Up
There you have it, some of the very best nic salts from one of the best ranges. Of course, this is just a small sample of our massive nic salt e-liquid collection and if you're looking for more inspiration you should check out the rest. If you're looking for a personal recommendation, you can get in touch with our Customer Service Team: they're available seven days a week and you can contact them by phone, email and live chat.