The Ultimate Vape Coil Wire Guide

Vape coils are specifically designed to be fitted into your vape tank or rebuildable atomiser. Coils mostly consist of a wrapped piece of metal wire and a cotton wick. The wick soaks up e-liquid, that the coil heats to the point it turns into vapour. Coil wire comes in many forms, so it's important to know what's compatible with the vaping style you require. Different metals have different properties, therefore only certain coil types can work with different output modes. We'll run you through what's what and which is right for you.
KANTHAL
Kanthal coil wire is the most common coil wire material found in vaping. The reason behind this, is that it is cheap to source and easy to use, providing good flavour and cloud production. Kanthal Coil Wire is found in both tank coils and prebuilt coils for rebuildable atomisers.
Available in a range of resistances, Kanthal wire provides versatility, working well for both sub ohm vaping and mouth to lung vaping. Kanthal can only be used in Variable Wattage mode, making it compatible with most vape devices thanks to its versatility.
Features:
Most Common
Budget-Friendly
Used in Variable Wattage Mode only
Offers Balance Between Flavour and Cloud Production
STAINLESS STEEL
Stainless Steel coil wire, often shortened to 'SS', is a versatile material for vape coils. It is the only kind of coil that can be used in both Variable Wattage Mode and Temperature Control Mode, making it a popular choice, particularly for advanced vapers. Stainless Steel heats up faster than standard Kanthal wire and interferes less with flavour, for what many consider a more satisfactory vaping experience.
Features:
Compatible with Variable Wattage and Temperature Control Mode
Heats faster than Kanthal
Clean flavour
NICKEL
Nickel coil wire or NI200, is a firm favourite amongst experienced vapers and is used primarily in advanced vape devices and kits. Nickel coils can only be used in Temperature Control mode, but are reliable and perform well at high temperatures. Due to the high, Temperature Coefficient of Resistance, they're ideal for cloud chasing and provide intense flavour when vaped. Due to its malleability and general softness as a metal, it can be difficult to build with for RDA use, therefore it's only recommended for advanced vapers.
Features:
Common
Temperature Control Mode Only
Performs Well At Higher Temperatures
Produces Large Clouds and Intense Flavour
Can Be Difficult To Build With
NiCHROME
NiChrome coil wire, or Ni80 as it's more commonly known, is similar to Kanthal in that it's readily available and can only be used in Variable Wattage Mode. This makes it ideal for different vape kits and devices and can be found in both tank coils and prebuilt coils for rebuildable atomisers. NiChrome heats up faster than Kanthal, for a faster ramp up and large cloud production.
Features:
Variable Wattage Mode Only
Faster Ramp Up Than Kanthal
Suited To Large Cloud Creation
Compatible With Majority Of Vape Kits
TITANIUM
Titanium coil wire or Ti wire, whilst rare is growing in popularity within the ever-burgeoning vape market. This type of wire can only be used in Temperature Control Mode, which is employed on a number of advanced sub ohm vape devices. Ti coil wire works well at higher temperatures as it does not lose its shape, meaning it's Ohm resistance remains consistent, and is easy to build with, making it ideal for cloud chasing.
Features:
Temperature Control Mode Only
Easy To Build With
Holds Shape
Performs Well At Higher Temperatures
MESH
Mesh coils have evolved into one of the most popular choices in vaping, for both beginners and experienced users alike. These coils are usually constructed from either Stainless Steel or Kanthal materials, and are widely available for most devices and RDAs nowadays. Providing a rich source of flavour due to the larger surface area heated, mesh coils replace the regular wire heating element used in standard coils and use metallic mesh instead. This results in faster firing, a longer lifespan and enhanced power efficiency altogether compared to conventional round wire coils.
Features:
Popular and Widely Available
Rich Flavour
Faster Firing
Long Lifespan
Power Efficient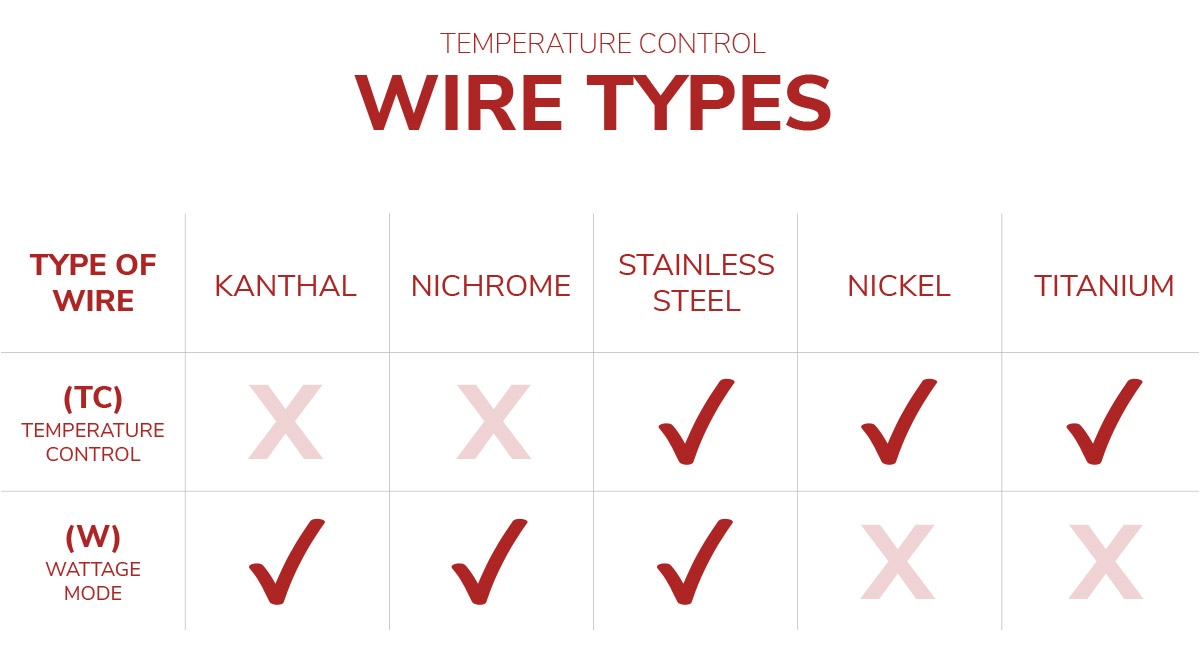 SUMMARY
Picking and using the right coil can make or break your vaping experience, therefore it's essential that you know the benefits and properties of each type. We recommend that you use this guide as a starting point, and that you research your coil fully before using it. Always check compatibility with your vape device before use.
If you intend to use rebuildable atomisers, you need a comprehensive understanding of the technicalities of vaping, along with knowledge of electronics and Ohm's Law which you can find in our RDA guide here. We don't advise any beginner vapers to start rebuilding coils or using RDAs until clued up, for their own health and safety.
If you have any questions regarding vape coils, or vaping in general, please get in touch.
How To Guides & Useful Information