VAPE CLUB SERVICE UPDATE - 5th april, 2020
We are open and dispatching orders with strict measures in place to ensure continuity of regular service. Our customer service team are working from home to answer all your queries by email, chat and telephone.

Please also allow extra time for Royal Mail to deliver your package, as you can imagine the demand for their services has increased exponentially and we know the amazing team at Royal Mail is doing everything they can to get your orders to you on-time.
We are well stocked on products, new stock deliveries are arriving daily and we have contingency plans in place to continue our high levels of service should the circumstances change further.
Here at Vape Club, our thoughts go out to anyone impacted by COVID-19. In light of rising concerns surrounding Coronavirus COVID-19, we want to assure you that Vape Club is committed to maintaining business operations as usual. Our leadership and management teams are focused on this objective, while also ensuring the safety and well-being of our team members and customers.
WILL MY DELIVERY BE AFFECTED?
Royal Mail and other courier services are still operating as normal, and have a lot of emergency measures in place to ensure that their services will continue throughout the crisis. There are changes to any signed for delivery - parcels will be placed on your door before they ring the bell and the delivery person will stand back ready for you to answer. If you are not at home you will be left a card with instructions on how to arrange re-delivery. You will no longer be asked to physically sign for the parcel, but you will be asked for your name which the delivery person will enter into the handheld device on your behalf.
See Latest Royal Mail Servive Updates
SHOULD I BE WORRIED ABOUT CATCHING THE VIRUS FROM A PARCEL?
Public Health England (PHE) has advised that people receiving parcels are not at risk of contracting the coronavirus. From experience with other coronaviruses, we know that these types of viruses don't survive long on objects, such as letters or parcels. This complements the highly publicised guidance from PHE for people to wash their hands more often than usual using soap and hot water. (Source PHE and Royal Mail https://www.royalmail.com/coronavirus).
Summary of additional steps we have taken to minimise the risk of spreading the virus:
All office based staff are working from home to minimise staff travel and ensure we have a backup team that's isolated from our warehouse operation.
Hand sanitisers, masks and gloves are available throughout our facility and we operate an open door policy (where possible) so contact with surfaces is minimised
Additional cleaning routines have been put in place to ensure communal areas and workspaces are disinfected multiple times a day
All close person to person interactions are being kept to a minimum to reduce the risk of spreading the virus. Staff are advised to keep a 2m distance where possible
Staff are monitored regularly and asked to self-isolate if there are any signs of symptoms
We are constantly evaluating the situation and adjusting our processes and policies
SUPPORTING OUR NHS STAFF DURING COVID-19 OUTBREAK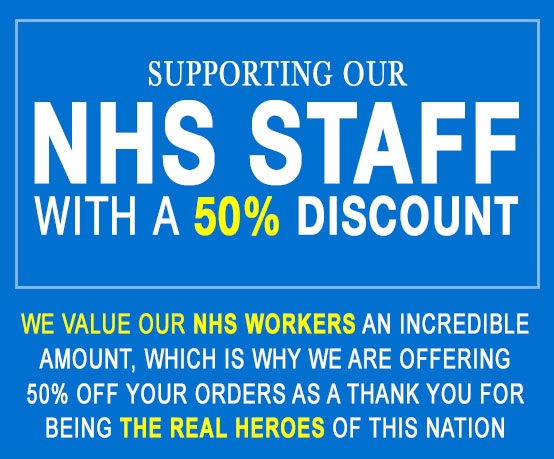 We value our NHS workers an incredible amount, which is why we're offering all staff 50% off your Vape Club orders as a thank you for being the real heroes of this nation.
HOW TO CLAIM: Once you complete your purchase, email our dedicated Customer Service team (info@vapeclub.co.uk) with a photo of your NHS ID card and we'll refund 50% of your order.
Please contact our customer service team if you have any questions or queries regarding this programme.