Will The Elfa Vape Kit Replace Single Use Disposables?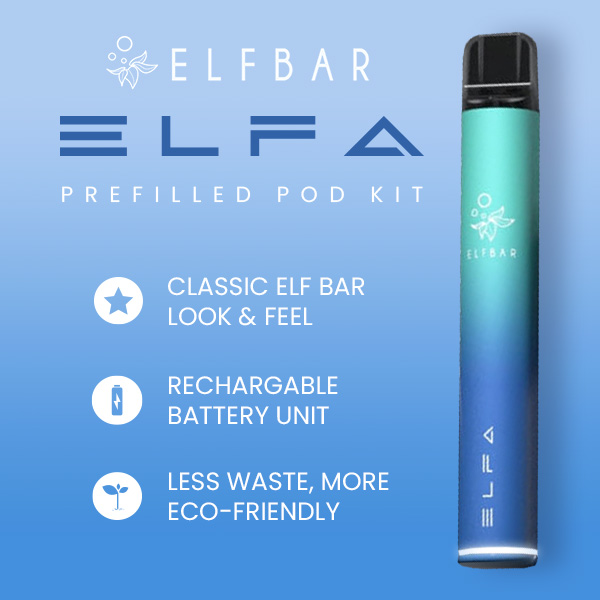 Within the vaping industry, we see the latest technologies come and go, but once in a blue moon a manufacturer will release something truly revolutionary. It's quite easy to see that disposable vapes are the most recent addition to this list.
Disposable vapes have not only made vaping more easily accessible, they also provide one of the cheapest ways for many people to switch away from smoking. This combination of inexpensive vapes that are ready to use out of the box, is one reason for their huge popularity. Elf Bar emerged in late 2020 and quickly cemented themselves as one of the most popular and reputable manufacturers of disposable vapes.
What Is Disposable Pod Vaping?
The popularity of disposable vaping is undeniable. However, using disposable vapes can become expensive if used as a long term alternative to smoking. However, single use vapes are not the only type of disposables available, you can also get disposable pod vapes, which come with a rechargeable battery, so that you're only replacing the pods on a regular basis. This creates an inexpensive alternative, as packs of replacement pods can cost as little as a single disposable vape.
This style of vape kit means that there are no coils to change, and when the pod is empty you can just replace it with a fresh one. Which makes this a kit easy to manage without the hassle of coil changes, or refilling any tanks or pods.
The Elfa Pod Kit Overview
Elf Bar looks set to innovate disposable pod vaping with the announcement of the Elfa pod kit. Unlike Elf Bar's range of completely disposable vapes, the Elfa pod vape kit features a rechargeable battery that is compatible with prefilled pods. So when your battery runs out of power, you just need to recharge it. Additionally, when your pod is empty, you can just replace it with a new one.
The Elfa pod vape kit uses the instantly recognisable design of an Elf Bar and has combined it with a 500mAh battery that is recharged through a conveniently placed charging port. Each charge will deliver 600 puffs, outlasting 20 cigarettes. When it comes time to charge the battery, the latest USB-C technology means you'll be back to vaping in no time at all.
Features :
Beginner Friendly
Prefilled Pod Included
Inhale Activated
MTL Vaping Style
Multiple Pod Flavours Available
Contains :
Elf Bar Elfa Device
Elf Bar Elfa Prefilled Pod
USB-C Charging Cable
User Manual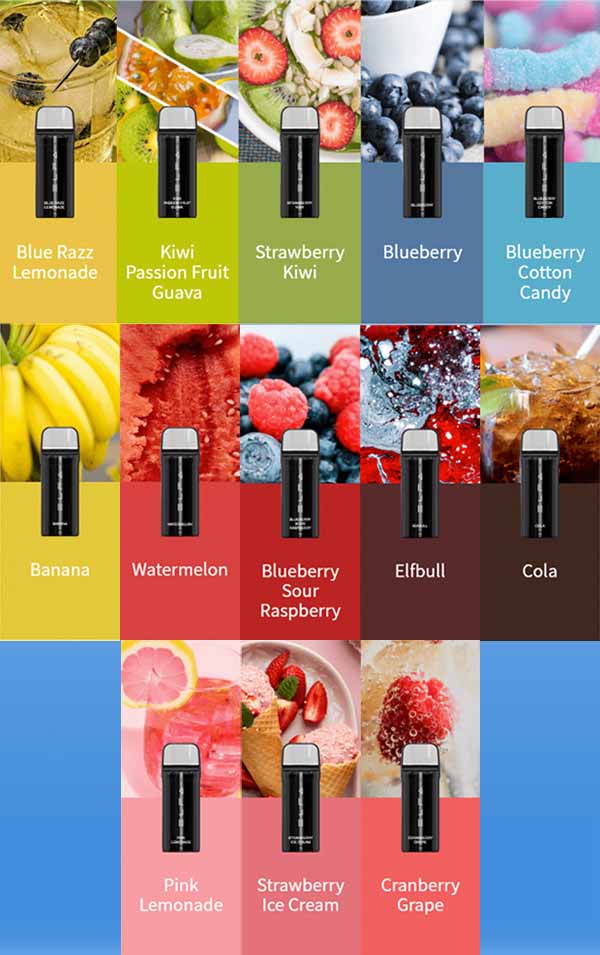 The Elfa 2ml replacement pods mean that you can get more of your favourite elf bar flavours like Watermelon, Pink Lemonade and Blue Razz Lemonade. When your pod is connected to the Elfa battery, all you need to do is puff on the mouthpiece thanks to the kit's inhale activation. These pods contain e-liquid that has been blended with 20mg salt nicotine, ideal for anyone looking for a high strength nicotine with a lighter throat hit. These disposable pods will be available in a mix of different flavours like fruits, menthols, tobacco and drinks. It also features a unique mesh coil that will deliver improved flavour production, as well as increasing vapour production.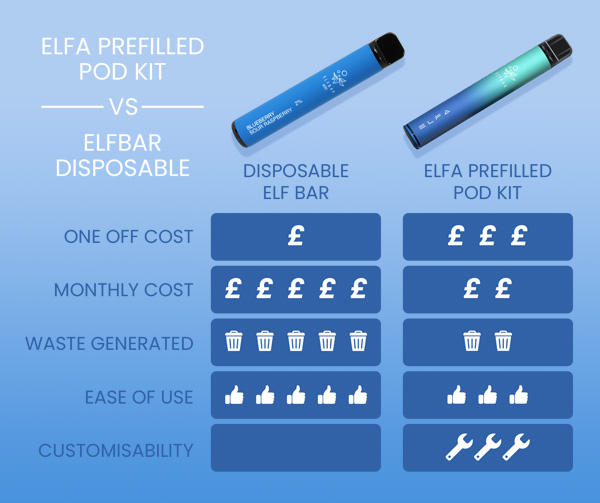 The Elfa replacement pods are also a cost-effective alternative to buying a disposable vape kit. You will get two prefilled Elfa replacement pods in one pack, meaning you can get twice as much e-liquid for a similar price of a single Elf Bar. Not only is this a cheaper alternative to a disposable vape, but it will dramatically reduce the amount of single use plastics that are currently produced. This makes the Elfa pod vape kit an ideal choice for vapers who are both environmentally conscious and on a budget.
Where Can I Buy The Elfa Pod Kit?
If you want to be an eco-friendly vaper too, you can register your email to be notified as soon as the Elfa vape kit is released, so you don't miss out on what is predicted to be one of the most popular vape kits of the year.
With our same day dispatch guarantee when your order is placed before 7pm and free delivery when you spend over £20, you could have your new Elf Bar Elfa Pod Kit in as little as 24 hours thanks to our Royal Mail Tracked 24 shipping. Check out our shipping guide for more information, including other couriers like DPD and UPS. Our Customer Service team is also on hand to answer any questions or queries you may have. They are available 7 days a week and are always happy to speak to you in person, over the phone, by email, live chat, social media - whatever you prefer!