Aspire Slym Panama Lounge by Delta Prefilled Pods
Ice Cream, Caramel, Tobacco, Salt Nic, Prefilled, 1.8ml, 20mg, 1.2 Ohm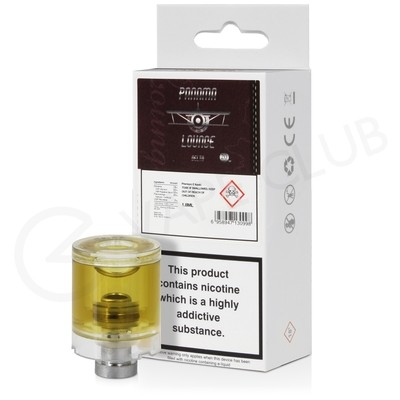 Eliquid Flavours

Caramel, Ice Cream, Tobacco

Made In

UK
The Aspire Slym Delta by Panama Lounge pre-filled flavour pods are compatible with the Aspire Slym pod kit only. Delta is a decadent dessert blend featuring a robust finish. A smooth ice cream sundae base is fused with rich caramel and dark tobacco for a complex flavour.
Features:
Pre-Filled Flavoured Pod
Salt Nicotine
1.8ml E-Liquid Capacity
20mg Salt Nicotine Strength
50% VG / 50% PG
1.2 Ohm Built-In NiChrome Coil
This 1.8ml pre-filled flavoured pod features a salt nicotine blend in a 50% VG 20mg nicotine strength, delivering a mild throat hit with fast absorption. Each pod houses a 1.2 Ohm NiChrome coil, for clear flavour extraction and long-lasting durability.
Contains:
3 x Aspire Slym Delta by Panama Lounge 1.8ml 20mg Salt NicPre-Filled Flavoured Pods
There are no customer reviews for this product. Registered members earn £1.00 in loyalty points for submitting the first product review!
Submit A Product Review