The Aspire Tigon vape tank is recommended for users of all experience levels. This is because not only is it easy to use, it will also support both mouth to lung and direct to lung vaping thanks to its range of compatible coils. Capable of holding up to 2ml of e-liquid, the Tigon features a standard 510 connection, so you can pair it with most vape devices.
Features:
Aspire Vape Tank
2ml E-Liquid Capacity
Top Filling
Childproof Lock
Adjustable Airflow
Supports MTL & DTL Vaping
Compatible with High VG & High PG E-Liquid
Combining safety with a sleek design the Tigon can be refilled quickly and cleanly thanks to the top filling mechanism, this mechanism is secured by a childproof lock. This lock and the seals that feature throughout the tank greatly reduces the chance of leaking. Giving you more control over vapour production, the adjustable airflow provides a tight or loose inhale meaning you can customise the Tigon's performance to suit you.
Two Aspire Tigon coils are supplied with each tank and replacements are widely available. By including both a mouth to lung and sub ohm coil, you have the opportunity to try different vaping styles. The 0.4 Ohm Tigon coil will create a large amount of vapour, working best with an e-liquid that is 60% VG or higher. For discreet vaping, we recommend the 1.2 Ohm coil and an e-liquid that is 50% PG or higher.
Overall, the Tigon tank has something to offers vapers of all experience levels, it is also a tank that you can continue to use as you become more experienced and your style changes.
Contains:
Tigon 2ml Vape Tank
Tigon 0.4 Ohm Sub Ohm Coil
Tigon 1.2 Ohm Mouth To Lung Coil
Spares Bag
User Manual
Important information about sub ohm vaping:
This vape tank is (partially) intended for sub ohm vaping. Sub ohm tanks require a greater amount of knowledge and experience to use safely. They use specially designed sub ohm vape coils that register below 1.0 Ohm resistance, for use at higher wattages.
We recommend that when sub ohm vaping, you do not use an e-liquid that has higher than a 6mg nicotine strength, this will be too harsh on the throat. Sub ohm vaping produces more vapour and because of this, an increased throat hit. You should pair tanks like this with a high VG e-liquid, that is 60% VG or higher.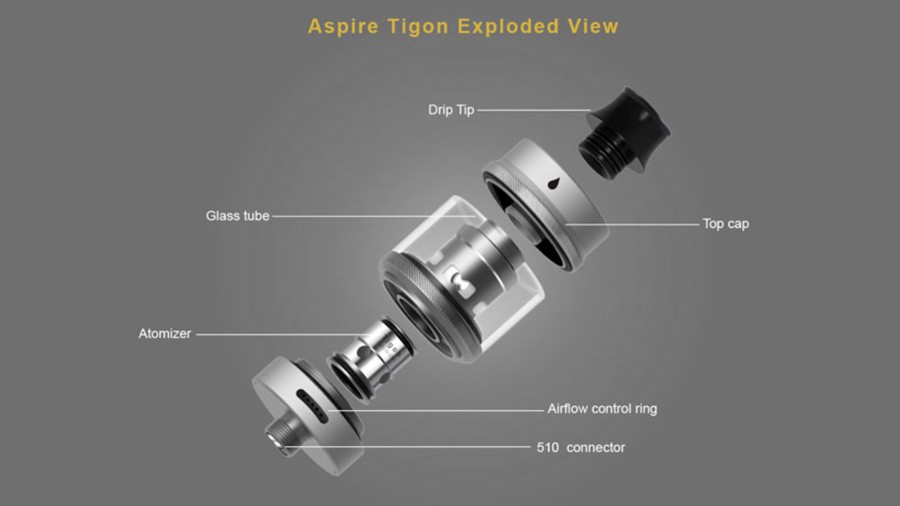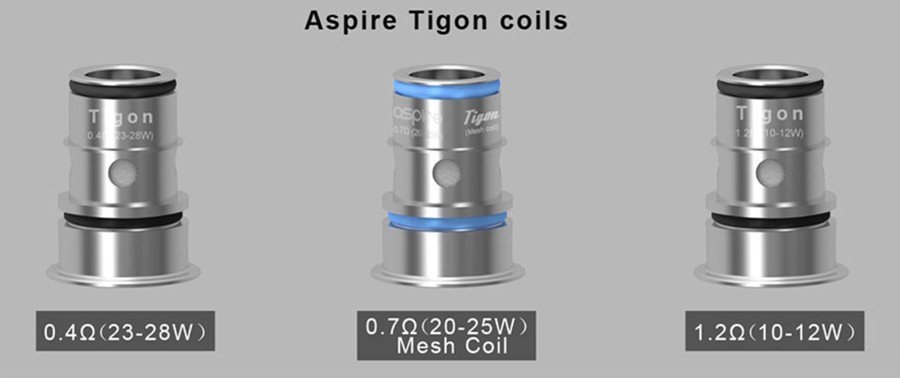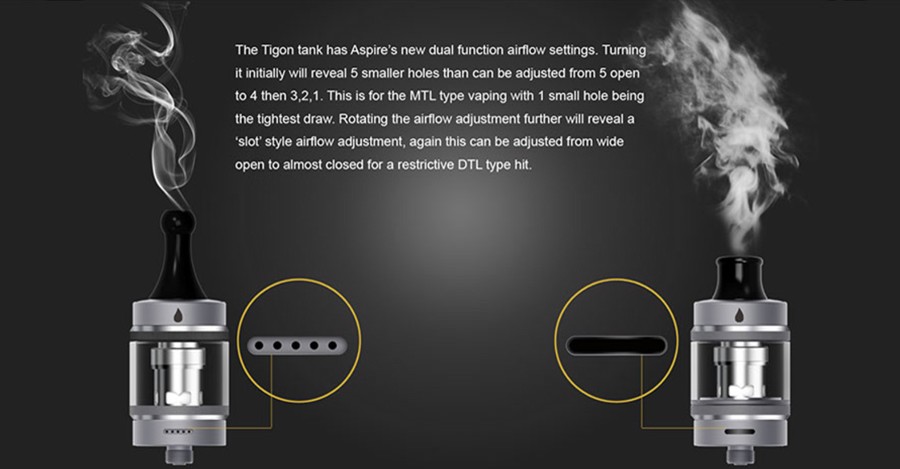 5 Pack
0.4Ω, 0.7Ω, 1.2Ω