The Aspire Tigon vape tank features a 2ml capacity and is compatible with a range of eliquids. Designed for mouth to lung or sub ohm vaping it can be used with most vape devices and has a standard 510 connection.
A childproof top filling cap makes this a safer tank to use. When removed, this cap reveals a large juice port that fit most standard bottle nibs. The locking system and seals help make this tank virtually leak-free so you can take it with you wherever you go.
Perhaps the best feature of the Tigon is that it can be configured for either mouth to lung or sub ohm vaping by simply changing the coil. By using the dual airflow you can further control your inhale for a breezy direct to lung experience or a lighter mouth to lung hit.
A 0.4 Ohm Tigon coil and a 1.2 Ohm Tigon coil is included with each tank. The 0.4 Ohm is used for creating large clouds and should be used with high VG eliquids that are 60% VG and higher.
The 1.2 Ohm coil is recommended for newer users as it other a restricted inhale and less cloud, it should be used with high PG eliquids that are 50% PG or higher.
Overall, the Tigon tank has something to offers vapers of all experience levels, it is also a tank that you can continue to use as you become more experienced and your style changes.
Contains:
1 x Tigon 2ml Tank
1 x 0.4 Ohm Sub Ohm Coil
1 x 1.2 Ohm Mouth To Lung Coil
1 x Spares Bag
1 x User Manual
Features:
2ml eliquid capacity
Childproof top filling cap
Dual adjustable bottom airflow
Sub ohm or mouth to lung vaping
Compatible with a range of devices
Important information about sub ohm vaping:
This vape tank is (partially) intended for sub ohm vaping. Sub ohm tanks require a greater amount of knowledge and experience to use safely. They use specially designed sub ohm vape coils that register below 1.0 Ohm resistance, for use at higher wattages.
We recommend that when sub ohm vaping, you do not use an e-liquid that has higher than a 6mg nicotine strength, this will be too harsh on the throat. Sub ohm vaping produces more vapour and because of this, an increased throat hit. You should pair tanks like this with a high VG e-liquid, that is 60% VG or higher.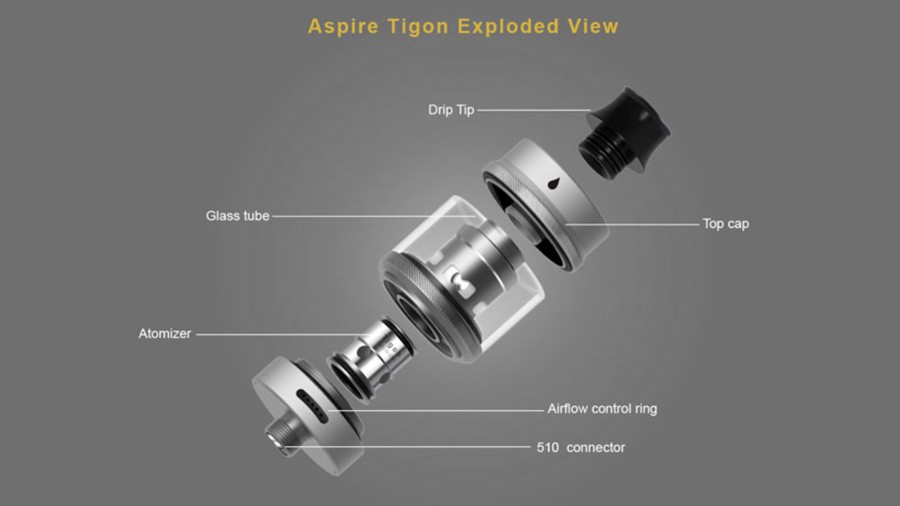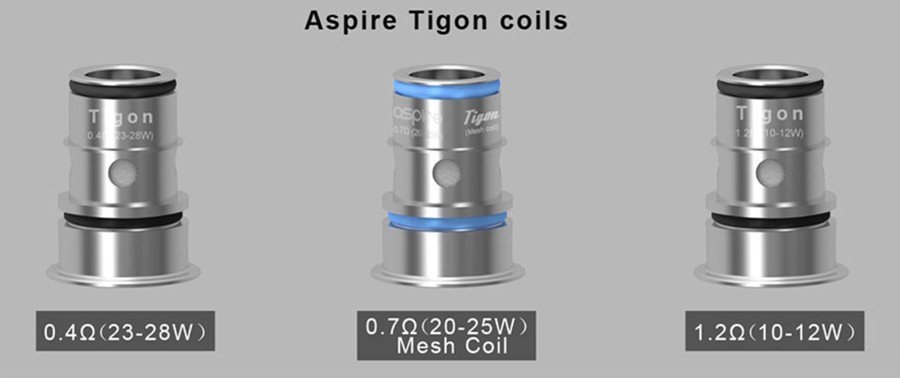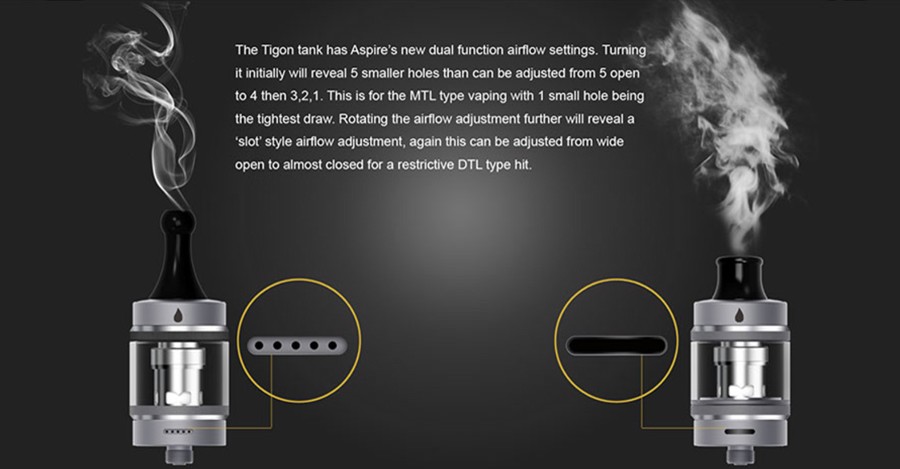 5 Pack
0.4Ω, 0.7Ω, 1.2Ω