What Are Disposable Elf Bars?
Perhaps the biggest thing to hit vaping in recent years, disposable Elf Bars have quickly become best-sellers, but at the same time have left a lot of people sitting on the fence about exactly how good they are. For some, they offer a quick and simple alternative to classic refillable kits, but to others, they're incredibly limited and aren't considered a long-term solution. No matter where you sit in the debate, it's hard to overlook the fact that there are a lot of advantages to choosing Elf Bars.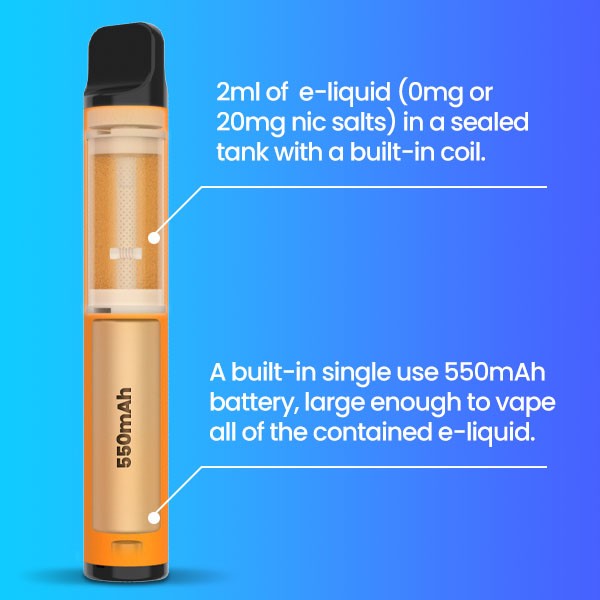 Why Do People Like Elf Bars?
A huge range of flavours like cool menthol, rich tobacco and sweet fruit Elf Bars are available.
They're very simple, all you need to get started is to remove your device from the packaging and inhale on the mouthpiece.
They create a smooth throat hit, and this is thanks to the nic salt e-liquid that's used in each device.
Elf Bars are long-lasting. Capable of delivering up to 600 puffs, most people find an Elf Bar will last longer than 20 cigarettes.
There's no maintenance, when your bar runs out of e-liquid you can replace it with a new one.
They're a good starting point, and even if you've never vaped before you should have no problem beginning your journey with an Elf, or any other, disposable vape.
With the above in mind, you might be thinking to yourself, why would anyone want to move away from an Elf Bar?
Why Do People Stop Using Elf Bars?
Elf Bars Aren't The Cheapest Kind Of Vape
Yes, when you consider them as a one-off purchase, Elf Bars are cheaper than a traditional vape kit, and they're definitely a lot cheaper than cigarettes. However, a lot of vapers quickly discover that there are other options that are less expensive over time (we'll go into that later).
Counterfeits And Elf Bars Designed For Other Markets
It's common knowledge that certain disposable vapes are being counterfeited and none of these devices (whether they say Elf Bar on the box or not) go through the same rigorous testing that's required by law. They could be very unsafe due to the ingredients used in their e-liquid or even the standard to which they're manufactured.
Similarly, there are Elf Bars popping up that are not intended for the UK market that sometimes make their way over here. Again, these won't be tested to the same standard (as they don't always have to be when they're sold outside the UK) and you can't be 100% sure what's inside.
Your best bet is to only ever buy your vapes from a trusted retailer and look for telltale signs of non-UK or illegal products, like disposables that contain more than 2ml of e-liquid or have a strength higher than 20mg.
Elf Bars Aren't The Most Environmentally-Friendly Vape
When you consider how many Elf Bars the average vaper can get through in a week, that's a lot of potential plastic waste to consider. Designed as an all-in-one device, it's not safe to try and disassemble an Elf Bar or separate the components for recycling.
Instead, they'll need to be taken to a battery recycling point, and even then there's no guarantee that all of the devices will be recycled. Other kits, particularly rechargeable and refillable vapes, generate a fraction of the amount of waste and are easier to recycle too.
Are Elf Bars Reliable?
Get through a few disposable Elf Bars and you'll begin to notice that the same problems keep cropping up. These mainly relate to performance. Although simple to use, when their battery runs low you'll notice they stop producing as much vapour and then just suddenly stop altogether.
This is a problem as you can't actually see how much e-liquid is left inside. You can plan ahead and carry a spare with you, but it's still quite frustrating when your disposable stops working and you've forgotten to bring a spare or you're nowhere near a shop.
Elf Bar Disposable Vapes Aren't A Long-Term Option
As you can see disposable vapes might not be the best option for you. However, it's important to remember that if you're looking to try vaping for the first time or have been put off by kits that look like they require a lot of work, nothing comes close in terms of simplicity to a disposable.
Let's also remember that although they're not perfect, disposables are still cheaper than smoking and better for the environment than cigarettes. So maybe then, it's with considering a different kind of disposable and figuring out whether or not Elf Bar really is the best.
Are Elf Bars The Best Disposables?
When you think "disposable vape" the first name that comes to mind might be "Elf Bar", but they have a lot of competition! Companies are springing up all over the place, attempting to perfect the disposable and offer something that vapers can get to grips with easily.
Top e-liquid brands have also been quick to get their flavours to vapers who might have never tried them before, with disposables available from the likes of Nasty Juice and Dinner Lady. Or, if you're looking to save a bit of money, there are also cheaper disposables that contain less e-liquid and are also more compact too like the Beco Bars.
Whichever brand of disposable you choose, it's important to remember that you will experience the same limitations we spoke about earlier. Disposables can't be refilled or recharged, which means they'll need to be thrown away when they're empty and when it comes to things like flavour and nicotine strength, your options are limited to whatever the manufacturer thinks will work best.
When you look at it this way, it's easy to understand why so many vapers might start their journey with disposables but will quickly move on to other options after a few weeks or months.
What Are The Alternatives To Elf Bar Disposable Vapes?
Elf Bars have had a huge impact on vaping, so much so, that you might not be aware that there are cheaper kits available that are almost as easy to use and maintain.
If you're looking to save money by choosing a different kind of vape, the key thing to remember is that the more you're willing to do yourself the less it will cost. For example, because disposables can't be refilled or recharged they end up being the most expensive option as they need to be replaced sometimes daily.
Whereas, a vape kit that needs to be refilled with e-liquid, have its battery recharged and also have its coils changed will be a lot cheaper to run. It's a bit like the difference between buying a takeaway coffee and making one at home.
Below, we've outlined some alternatives to disposable vapes and ranked them by looking at things which are important to the average vaper, such as ease of use, price, and e-liquid options.
Disposable Vapes
If you want to keep using disposable vapes, but want to try some different flavours or maybe even a different style of device, there are plenty of options to choose from. Here are some of our favourites.
Lost Mary BM600
KEY STATS
E-Liquid Amount:
2ml
Battery Size:
550mAh
Puff Count:
600
Flavours Available:
24
Nic Strengths Available:
20mg
Lost Mary BM600 Most Popular Flavours:
When it comes to design, Lost Mary vapes look a little different to Elf Bars. Their small, boxy design offers a pocket-friendly alternative to the pen-style vapes that Elf Bar produces. When it comes to flavour you'll find some crossover between the two ranges, but Lost Mary has created a number of blends unique to their range including Pineapple Ice, Triple Mango, and Double Apple.
Lost Mary vapes are available in a 20mg strength and they can deliver up to 600 puffs, so they easily keep up with Elf Bars and other competitors on puff count. Plus, you can also find them as part of our mix-and-match multi-buy.
Crystal Bar
KEY STATS
E-Liquid Amount:
2ml
Battery Size:
500mAh
Puff Count:
600
Flavours Available:
38
Nic Strengths Available:
20mg
Crystal Bar Most Popular Flavours:
Boasting a unique array of flavours and a stylish crystal-like design, the Crystal Bar disposable vapes are some of our best-sellers and a welcome option if you don't fancy an Elf Bar. Available in a 20mg strength and using the same kind of nic salt that Elf does, you'll also experience a smooth throat hit.
If you're looking to try something new flavour-wise, we recommend Lemon & Lime, Fizzy Cherry or Cola Ice. If you're looking to stock up on a few Crystal Bars, we recommend our 3 for £12 multi-buy.
Elux Bar 600
KEY STATS
E-Liquid Amount:
2ml
Battery Size:
550mAh
Puff Count:
600
Flavours Available:
21
Nic Strengths Available:
10mg, 20mg
Elux Bar 600 Most Popular Flavours:
With one of the biggest ranges of flavours available in disposables, the Elux Bars offer a bit of something for everyone. Sample the cool and rich notes of Vanilla Ice Cream, the sweet and juicy flavour found in Berry Lemonade or even the dark and smooth taste that Espresso delivers.
Available in your choice of a 10mg or 20mg strength and using nic salt for a lighter vape, there are even different styles of the device so you can try a few and find your perfect vape. Whichever way you prefer to vape, the Elux disposables are part of our multi-buy deal.
Prefilled Pod Kits
If you've used a disposable vape before and can get used to the idea of recharging your vape like your phone, then there's nothing stopping you from trying a prefilled pod kit! Unlike disposables, when these kits run out of e-liquid you don't get rid of them, instead, you just replace the small prefilled e-liquid pod that plugs into the device. These pods are available in a range of different flavours and nicotine strengths, in sizes up to 2ml — so they'll often last as long and sometimes longer than a standard disposable.
Featuring a rechargeable battery, not only are these vape kits cheaper to run, but they're also better for the environment as they don't produce nearly as much waste. Replacement pods are available in packs of two or three normally, and carrying around spare pods takes up a lot less room than two or three disposables. Plus, the batteries inside the kits are long-lasting and should offer up to a day's worth of use for most vapers between charges.
KEY STATS
Ease Of Use:
4/5
Price:
3/5
E-Liquid Options:
3/5
Vaping Style:
MTL
Popular Prefilled Pod Kits:
The Elf Bar Mate with its compact design and inhale activation, looks and feels like a standard Elf Bar, but uses prefilled pods that feature classic Elf flavours like Blue Razz Lemonade and Kiwi Passion Fruit Guava. Plus, if you're feeling adventurous, there's also a refillable Mate pod that you can use to turn this kit into a refillable vape. The Mate 500 is just one of the dozens of best-selling pod vapes that we stock, and if you're looking for more options from top manufacturers, you might want to check out our Best Prefilled Pods Guide.
Refillable Pod Kits
Prefilled pod kits are a cheaper option than disposables, but if you're looking to save some serious cash a refillable pod kit is definitely the way to go! Aside from saving money, refillable pods give you access to a huge range of e-liquid. This includes a massive selection of flavours alongside different nicotine strengths and even types of nicotine.
Some maintenance is required with these kits but it's kept to a minimum, all you'll have to do in most cases is charge your vape, refill it with e-liquid and change the pod when the coil inside starts tasting burnt (about once a week on average). Popular options like the Elf Bar FB1000 kit even feature mesh coils, so whichever e-liquid you pick you'll experience a better flavour. For more help with finding your new kit, take a look at our Best Refillable Pods Guide.
KEY STATS
Ease Of Use:
3/5
Price:
4/5
E-Liquid Options:
4/5
Vaping Style:
MTL & DTL
Popular Refillable Pod Kits:
What Kind Of E-Liquid Can I Use With A Refillable Pod?
Thanks to e-liquid available in strengths from 0mg to 20mg, you can find your perfect level straight off the bat, if you need to, you can also increase or decrease your nicotine strength as you please. Pick nic salt e-liquid if you're looking for a smoother vape, or if you want a vape that feels more like a cigarette try freebase nicotine e-liquids. For the best of both worlds, hybrid nicotine e-liquid mixes salt and freebase together for a vape that creates a medium-level throat hit but is absorbed very quickly to satisfy cravings faster.
When it comes to flavour, the sky's the limit! Our e-liquid flavour range is a good place to start, just remember to pick a liquid with the right VG/PG ratio: 50/50 e-liquid and high PG e-liquids for MTL pod kits. If you've gone for a more powerful kit, like sub ohm pod kits, we recommend a 70% VG e-liquid or higher. Check out our Ultimate Guide To E-Liquid for more help picking the right one for your kit.
Open Tank Kits
It doesn't get more classic than this! Refillable vape kits with tanks remain the go-to option for vapers and aren't going anywhere. Their popularity lies in the fact they offer the most customisation and are the cheapest to run.
More of an umbrella term, "open tank kits" covers everything from cylindrical vape pens all the way to bigger box mod kits that create a lot of vapour. At their core though, all of these kits require the same basic set-up and maintenance: the tank will need to be filled with e-liquid just like a pod, the battery needs to be charged, and around once a week you'll have to change the vape coil inside the tank.
By changing the coils rather than the entire tank, and because you'll buy e-liquid separately rather than a whole new vape kit, refillable tank vapes are by far the cheapest option available. If you're worried they might be a bit complex, don't be, there are plenty of kits aimed squarely at beginners, a couple of classic examples include the Aspire Pockex kit and the Innokin Endura T18e kit.
KEY STATS
Ease Of Use:
2/5
Price:
5/5
E-Liquid Options:
5/5
Vaping Style:
MTL & DTL
Popular Open Tank Kits:
But, remember - the sky's the limit! You can pick a kit that's as basic or advanced as you need it to be, and kits that allow you to customise performance with modes like Variable Wattage are a great choice, because even if your vaping style changes you won't need to swap your kit.
If you're thinking about the environment, you might also be interested to know that these kits also produce the least amount of waste. The only part that needs to be replaced will be the coil, the tanks themselves can keep being used for as long as you like and are easy to clean.
What E-Liquid Can I Use With A Refillable Tank?
Just like refillable pod kits, you'll have access to a giant range of e-liquid, with flavours for every taste and nicotine strengths to suit every preference. In fact, there are actually more e-liquid options available if you pick a refillable tank kit as this range also includes sub ohm vape kits. These more powerful kits create large amounts of vapour and can use high VG e-liquids which few pod kits can accommodate and no disposable vapes can handle.
Can I Find Vapes That Taste Like Elf Bars?
One of the biggest draws of the Elf Bars is the sheer range of flavours available. Get started with Elf disposables and you'll discover a huge collection of fruit, soda, candy, dessert and tobacco blends at your disposal. What happens though if you want to move away from Elf disposables? A lot of people are looking for vapes similar to Elf Bar, luckily when it comes to flavour there are plenty of options available and we've picked out a few below. To make sure there's a bit of something for everyone, we've included e-liquids similar to Elf Bar disposables as well as prefilled pods that contain vape juice that tastes similar to Elf Bars.