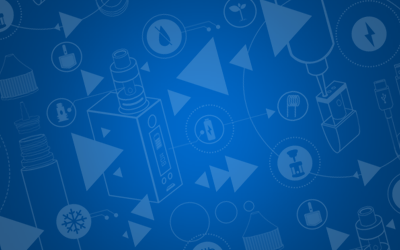 The Best American Vape Juice Brands Of 2023
Our e-liquid range features over 4,500 different vape juices to choose from. We've sourced the very best blends from all around the globe, so if you're looking for some international flavours, there's no need to pay hefty customs fees or wait weeks for your order to arrive. We've already done the hard work by importing the best e-liquid the world has to offer, so you can get next-day delivery on all these products – and everything else we stock.
When it comes to imported e-liquid, American vape juice brands are some of the biggest and most popular around. E-liquids made in the USA tend to feature really intense, punchy blends, so they're a good choice if you're looking for a really flavourful vape. With that in mind, we've ranked our top ten best American e-liquid brands and highlighted their best flavours. We've made sure to include a mix of high VG, nicotine salt and freebase 50/50 e-liquids too, so whether you use a DTL (Direct To Lung) or MTL (Mouth To Lung) device, there's something for you. Read on for the rankings!
Element
Element was founded in 2014 in sunny South Florida. Though their blends are relatively simple, featuring just a few notes in each, they're our go-to recommendation for customers who are looking for e-liquids with really bold flavours. Element vape juice comes in high VG shortfill, nicotine salt and freebase 50/50 forms, so there's something for every type of vaper.
Their most well-known blend is Pink Lemonade, which combines notes of tangy lemonade with a medley of juicy red berries for a vape that balances sugary and sharp notes throughout. For something a little richer, Element's Banana Nut is a dessert blend that fuses creamy banana with dark caramel and distinct nutty notes. If you're after something simple, Frost is a straightforward menthol vape.
Purity
Purity was founded in 2009 in Florida. This brand creates e-liquids with high PG concentrations, so they work best in MTL (Mouth To Lung) vape kits where they'll produce discreet amounts of vapour for a cigarette-like inhale. Their flavours mostly feature unique tobacco and menthol blends, making them popular with vapers looking for familiar tastes.
Purity's best selling flavour is Tribeca, a tobacco blend with a sweet twist. The robust and dark tobacco base is rounded out by notes of rich vanilla and smooth-tasting caramel. For something a bit more traditional, Turkish Tobacco is a straightforward tobacco blend with earthy and slightly spiced notes throughout. If you prefer a cooler vape, Sub Zero is a frosty blend of crisp mint and intense menthol.
Ruthless
Founded in 2011, in South California, Ruthless is one of our most popular USA e-liquid brands. Their best-selling blends focus heavily on fruit and soda flavours, but these expert mixologists have a number of dessert and tobacco blends under their belts too. No matter which one you go for, you can be sure you're in for a quality vape.
Grape Drank is easily Ruthless' most popular flavour, recreating the classic taste of sweet, rich and dark American-style grape soda. If you like a frosty blend, you can pick up Grape Drank On Ice, which adds an arctic exhale. Both Grape Drank On Ice and the original Grape Drank are available as nic salts too, so MTL vapers aren't left behind. For a more tropical taste, Rise and Jungle Fever feature fusions of exotic fruit notes.
Pacha Mama
Pacha Mama was founded in 2014 in sunny South Florida. Though their blends are relatively simple, featuring just a few notes in each, they're our go-to recommendation for customers who are looking for e-liquids with really bold flavours. Pacha Mama vape juice comes in high VG shortfill, nicotine salt and freebase 50/50 forms, so there's something for every type of vaper.
Pacha Mama's most popular vape juice is Strawberry Watermelon, which features a duo of sweet, fruity flavours. If you'd prefer something a little less sweet, Mint Leaf faithfully recreates the cool and slightly-floral taste of freshly-picked mint.
The Milkman
The Milkman is a well-established e-liquid manufacturer founded in Los Angeles in 2015. As you might have guessed from the name, this vape juice brand specialises in creamy and rich dessert flavours. If you've got a sweet tooth or enjoy really decadent e-liquids, we'd highly recommend giving this brand a try.
The Milkman's signature, self-titled blend, The Milkman, features a complex blend of sweet fruit pastry, smooth vanilla ice cream and creamy milk. For something a little more simple, Pudding takes the sweet flavour of vanilla ice cream and adds a note of zesty lemon. If you prefer a more tropical vape, Mango Creamsicle combines the juicy taste of mango with smooth-tasting cream.
Bad Drip
Bad Drip Labs was formed in 2014 in Rochester, New York. Whether you're picking up one of Bad Drip's complex dessert flavours, a layered fruit blend or one of their candy vapes, you know you're in for an intensely sweet and bold taste. Most of their flavours are available in both shortfill and nic salt form.
Their most popular e-liquid is Farley's Gnarly Sauce, a candy vape juice which takes a base of sugary bubblegum and adds sweet strawberry and juicy kiwi notes. After a dessert blend instead? Try out Ugly Butter, a rich combination of buttery fried dough, cinnamon sugar and smooth banana pudding that's ideal if you enjoy really indulgent flavours.
Five Pawns
Founded in 2012, Five Pawns is a market leader in high-quality e-liquid. This California-based brand creates incredibly unique and distinct blends, and they're ideal if you're looking for a flavour that isn't too sugary as they don't use any artificial sweeteners.
The most popular flavour created by Five Pawns is Castle Long, which layers the deep and smoky taste of bourbon with almond, coconut, vanilla and brown sugar. If you enjoy tobacco vapes, Black Flag Risen combines light Virginia tobacco with notes of cappuccino and walnut for a complex blend. For something really unusual, try Bowden's Mate – a fusion of dark chocolate, fresh mint and French vanilla; for a flavour that recreates a chocolate after-dinner mint.
Monster Vape Labs
Monster Vape Labs was founded in Florida in 2014. They've created a number of ranges, such as Jam Monster, which focuses on sweet jam toast blends; Frozen Fruit Monster, which features fusions of fruit and ice; and Tobacco Monster, which features layered tobacco flavours. They offer shortfill and nicotine salt e-liquids so the range suits both DTL and MTL vapers.
The most popular Monster Vape e-liquid is Banana Ice, a simple blend of rich banana with a frosty ice exhale. If you're after something more unique, Blackberry Jam features the flavour of fruity jam on toast – vaping toast might sound strange, but we think it adds a much needed savoury note to an otherwise very sweet flavour.
Glas
Glas was founded in 2014 in Los Angeles. These expert mixologists focus on blending authentic-tasting fruit and dessert notes to create carefully-layered flavours. They create high VG shortfill e-liquids, with some of their best-selling flavours coming in nic salt form too./p>
Glas' most popular blend is Butterscotch Reserve, which combines a dark tobacco base with sweet caramel, soft vanilla and smooth-tasting butterscotch notes. If you'd prefer something a little lighter-tasting, Fresh Mango fuses the tropical flavour of mango with sweet pineapple and juicy blackcurrant notes for a balanced fruity vape.
Naked 100
Our final entry is another Californian e-liquid brand. Founded in 2016, Naked 100 was initially called The Schwartz, focusing on yoghurt-based flavours. Eventually, they branched out to create their popular blends which focus on fruit, ice and tobacco notes. They create high VG shortfills and nicotine salts.
Naked's best-selling flavour is Very Cool, a fusion of blackberry, blueberry and raspberry layered with crisp menthol. If you're not a fan of icy vapes, try Hawaiian POG, a tropical combination of sweet passion fruit, tangy orange and juicy guava. For something a little creamier, Lava Flow takes the flavour of ripe pineapple and freshly-picked strawberry and adds a smooth-tasting note of coconut.
Summing Up
There you have it, our list of the top ten best American e-liquid brands. We hope we've inspired your next purchase. Remember that this is only a small selection from our huge e-liquid range, so be sure to browse our full catalogue to see the rest. You can also visit our e-liquid brands page, where we've noted which country each brand comes from if you want to browse international flavours.
If you need some advice on picking out your next e-liquid, or if you have any vaping-related questions at all, feel free to get in touch with our customer service team. Our friendly vape experts know our catalogue back-to-front and will be more than happy to help you pick out your next favourite.