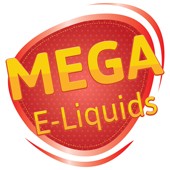 Mega eliquids are brought to you by Verdict Vapors, boasting a range of fruit and dessert style flavours in a high VG mix. With the likes of Apple Crumb and Watermelon Rush to choose from, there's something to suit a variety of palates.
Each blend features a 70% VG blend, which is most compatible with sub ohm tanks and kits to produce intense clouds and flavour alike.
All flavours are available in a portable, 10ml TPD compliant bottle in 4 x 10ml multipacks featuring a variety of nicotine strengths, dependent on the flavour.